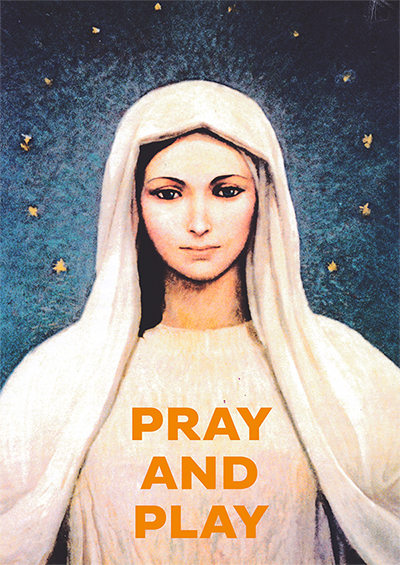 Seit dem 24. Juni 1981 erscheint die Muttergottes in Medjugorje (Bosnien-Herzegowina). Als "Königin des Friedens" richtet sie Botschaften an die ganze Welt, in denen sie uns zum Frieden zwischen Gott und den Menschen aufruft. Jesus Christus hat der Menschheit vom Kreuz aus seine Mutter geschenkt. In ihren Botschaften lädt sie uns zum Gebet ein, sie sagt "Betet, betet, betet…, das Gebet ist Freude. Das Gebet ist das, was das menschliche Herz wünscht". (aus der Botschaft vom 25.11.94)
Das Projekt "Pray and play", initiiert und geleitet vom Musiker Hans-Martin Limberg (www.limbergmusic.de) möchte dort ansetzen und sich für das Gleichgewicht in dieser Welt einsetzen. "Pray and play" ist eine internationale Gebets-und Musikergemeinschaft, die durch Gebet und Spenden bei Benefizkonzerten die Arbeit der Gottesmutter unterstützen will. Etliche humanitäre Projekte sind im Geiste Medjugorjes entstanden, wie z.B. "Marys meals", das "Mutterdorf" in Medjugorje, der "Fonds für kinderreiche Familien", das Obdachlosenheim "Lazarus" oder die Arbeit der "Schwestern der Seligpreisungen" (Les Beatitudes). Weitere Infos unter www.medjugorje.de, "Humanitäre Projekte".
Die CD-Reihe "Super Omnia" veröffentlicht Musik und Texte für Lobpreis, Anbetung, Meditation. Gegen Spende (Richtpreis 5,-EUR pro CD) können die CDs über das Kontaktformular bestellt werden. Ebenso besteht die Möglichkeit des MP3-Downloads gegen Spende.
Alle aus den Benefizkonzerten sowie CD-Veröffentlichungen generierten Einnahmen werden für humanitäre Projekte gespendet!
Benefizkonzertanfragen gerne über das Kontaktformular oder per mail an: hm.limberg@limbergmusic.de
Spendenkonto:
Hans-Martin Limberg
IBAN: DE78 4015 4530 0035 889427
BIC: WELADE3WXXX
(Sparkasse Westmünsterland).
Jeder kann durch Gebet oder Spende am Heil der Welt mitarbeiten! Der Gott der Liebe segne alle Freunde und Unterstützer von "Pray and play"!
Herzlichst, Hans-Martin Limberg